Kozljak – Cosliacco: "Wachsenstein's castle"
---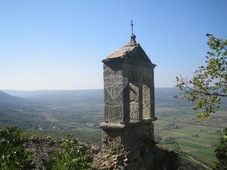 Only few walls and the ruins of the defence towers of the old castle have been preserved but the visit of the whole village is very nice for the people that enjoy the old architecture, history and beautiful view over the countryside.
In Kozljak's photo gallery you will find few pictures of this old fortified village and the surrounding countryside.
---
KOZLJAK – HISTORICAL OVERVIEW
Kozljak had several names in its long history. It was named Castrum Gosilach and Coslaco in the Middle Ages, Wachsenstein by Germans and Cosliacco by Italians.
For almost six centuries Kozljak was among the most important castles in the Rasa river field.
The castle probably dates back into the 11th century and was built by Marquis of Istria Urlich I Weimar-Orlamunde. The old Consular Roman road, Pula – Tarsatica (today named Rijeka), was passing trough this territory but it is only an assumption that Kozljak was also a Roman military settlement.
The first written notice about Kozljak, named Castrum Gosilach, dates back into 1102 when Urlich II donated its Istrian properties to the Aquileia Patriarchs. The Aquileia Patriarchs transferred the feud to Bishops of Pula.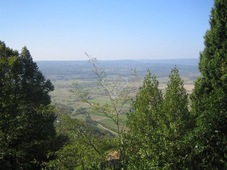 Bishops of Pula gave Kozljak to various Barons that were more under the influence of Counts of Gorizia, the Aquileia Patriarchs lawyers and rulers of the nearby County of Pazin.
The first known lord of Kozljak dates back into 1234 and was Filippo de Coslaco, named also Filippo of Wachsenstein in another document from 1244.

Many different rulers have changed over centuries and Kozljak was several times cause of conflicts between Counts of Gorizia and the Aquileia Patriarchs.
From 1374, when Alberto IV died, was a part of the County of Pazin, that passed to Austrian family Habsburg that year. Kozljak changed different rulers and different families were lords of Kozljak.
In 1300 was owned by Enrico II of Gorizia and in 1325 by Ugone IV of Duino. In 1331 Ugone IV successors were Filippo II and Volrico of Wachsenstein.

Wachsenstein was named Kozljak at that time and the rulers used to name them selves of Wachsenstain.
During the same year Venetians tried to occupy the castle and to arrest Filippo II and Volrico that were sentenced to death by Venations but the castle was occupied before them by the army of the Aquileia Patriarchs.
Few years later, in 1342, the Aquileia Patriarchs gave Kozljak again in feud to Ugone of Duino successors. From 1363 the lord of the feud became Filippo of Gutenek.
In 1374 Alberto IV Count of Gorizia confirmed to Filippo of Gutenek the ownership of Kozljak and some other villages. This way he became a new lord of Wachsenstein and his successors will continue to rule over Kozljak until 1668.
In 1385 Filippo built a well known Klostar's Paulist Monastery not far away from Kozljak. It is known as Paulist Monastery because in 1395, Filippo's successors, Nicolo' and Ermanno, donated the Monastery and the Church of Our Lady of the Lake to the Paulist order.
Lord of Kozljak used this Monastery as their burial place.
Ermanno was the lord of Kozljak after Filippo. In 1430 the new lord was his son Giovanni Gutenek of Wachsenstein who married with Anna Schomberg. They did not have successors and after his death, her relative, Gregorio Moyses became the new ruler of Kozljak.
In 1436 his successors were three brothers: Martino, Paolo and Giorgio I Moyses. Paulo and Giorgio I died in the war with Turks and Martino remained the only successor. In 1494 his son Giorgio II became a new lord of Kozljak.
Giorgio II did not have successors and he left Kozljak in 1525 to the sons of his sister. In 1529 they divided Kozljak's property that consisted in several villages between brothers Castellano, Giorgio Nicolich and Giovanni Barbo.