Krsan – Chersano: "Krsonski pir"
---
From the court yard with the well you can exit the castle using the secondary door that looks towards the Parish Church of St. Anthony. This church was built in the 17th century. The 22 meters high bell tower, located on the other side of the street, was built in 1803.
The houses of the village are mainly placed near the old town walls so you can visit the whole village and return in front of the main gate.
What is the real attraction for the visitor is to assist the Krsonski pir (Krsan's wedding). It is a presentation of the old wedding tradition. If you do not understand the language it will be like assisting to an opera.
Every end of July this event take place. During the event the old town became alive and full of people. A "Krsan wedding" is the folk name for this local tradition of marrying.
The show consists of the traditional courtship, engagement and wedding of Morko and Tonina and finishes with the christening of their child Mikula, where the child represents the greatest symbol of love.
This wedding is usually a very special day to most people in love. Still today at least in Pula and Istria there is a custom for the bridegroom to go to bride's house and please her parents for her hand. The bridegroom is asked by the parents of the bride to show his love so he has to accomplish various request of the bride's parents and friends. This is always accompanied with a lot of smiles.
---
KRSAN – HISTORICAL OVERVIEW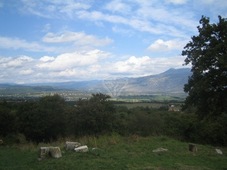 Krsan's castle is one of the most beautiful fortified villages in the Rasa valley. It is mentioned for the first time in 1274 when the Aquileia Patriarchs and Counts of Pazin signed a peace after a conflict that started in 1268. Some other sources indicates that the castle was mentioned for the first time in 1129.
During the 13th century the feud was part of the Aquileia Patriarchs dominions in Istria. It is likely that they bought it in the 12th century from the family de Pisino, a German family that ruled over Old Pazin.
In 1307 the Aquileia Patriarchs gave the feud to Enrico de Pisino who restructured the old castle and the town walls. In 1336 the feud returned to the Aquileia Patriarchs and in 1338 Krotendorfer bought half of Krsan's feud. In 1358 was occupied by Alberto IV Count of Pazin and in 1367 became part of County of Pazin.
In 1374, when Alberto IV died, Krsan passed with many other Istrian towns and villages to the Hapsburg family.
In 1390 Krotendorfer sold their part of the feud to Ugone VI of Duino and his successor Ramberto IV of Walsee in 1431 sold it to Leonardo Wolf.