Draguc – Draguccio: "Dravuie, Dragutsch, Draguchi,..."
---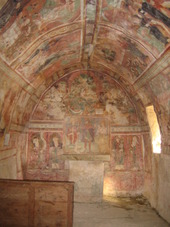 The frescoes represent the Three Kings' Reverence, the Escape from Egypt, the Annunciation, individual figures of the Saints and other Biblical scenes.
They are particularly interesting as a compound of new Renaissance figurative ideas and the folk figurative expressions. It is a possibility that Anthony from Padua have been influenced in this work with the frescoes painted by Clerigino in 1471 in Oprtalj.
Another interesting fact is that in Istria you will find many churches that are dedicated to St. Rock. There is a reason for that. Basically St. Rock is the Saint protector against the plague and this horrible disease killed many people in Istria over the centuries.

Together with wars plague was the most terrible disease for many centuries in Istria (Pula was hit by plague 41 times between 1350 and 1650 and arrived to count only 100 inhabitants).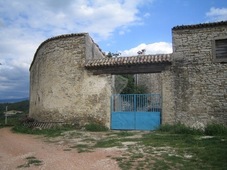 If you take a look back, towards the town walls, on your left side you will see the area of the old Draguc's castle.
Nowadays Draguc is almost abandoned village but is still charming and its visit should be included in your tour around central Istria.
In Draguc's photo gallery you will find various pictures of the buildings described in the text.
---
DRAGUC – HISTORICAL OVERVIEW
Like many other Istrian settlements also Draguc has been inhabited since prehistoric times. During the Roman period it was also a Roman settlement.
It is sure that in 1102 was donated by Ulrich II of Weimer to the Aquileia Patriarchs. At the time was named Dravuie.
The current name Draguc derives from the torrent whose name is Draguc that pass nearby the town and goes into the lake Butoniga. It is also known that during the Aquileia Patriarchs rule, the County Perfect – "Zupan", was in charge for the administration of the village.
In 13th century Draguc was ruled by Counts of Gorizia and in 1350 became a part of Pazin's County. In 1374, when Alberto IV, the Count of Pazin died, Draguc passed to the Austrian Hapsburg family.
In 1421 Venetians occupied Draguc for one year and later on they occupied it again in 1508. From 1523 Draguc was formally part of the Venetian Republic. The written documents proves that Austrian used to name Draguc Dragutsch and Venetians used to name it Draguchi.
During the Venetian administration Draguc became a border castle with defending scope of eastern Venetian borders in Istria together with other castles of Hum, Roc, Sovinjak and Vrh.
The central command of this defence system was located in Buzet and was under Raspor's Captain command.