Rabac – Porto Albona: "Villa Annette... family boutique hotel for travelers..."
---
During the Italian Fascist period in Istria many Istrian families suffered from the regime or had to leave Istria. Fascism in Istria applied various repressive measures mostly towards Slav populations and this created the Antifascist Movement. The Second World War was a very painful experience for the Istrian population and many innocent Istrians, both Slav and Latin, died during that war.
After the second World War Rabac became part of Yugoslavia (Croatia). There were three agreements between Yugoslavia and Italy which established that Istria would become a part of Yugoslavia: Paris Agreement of 1947, London Memorandum of 1954 and the Osimo Agreement reached in 1975. In the first decade after the Second World War many Istrians, especially those living in towns and villages that for centuries were part of the Venice Republic, decided to leave Istria.
In 1991 with the fall of Yugoslavia and the founding of the Republic of Croatia, the internal republic boundaries were recognised as the state boundaries and Rabac is today part of Croatia.
In 2013 Rabac became part of the European Union. You can not change the past but you can try to learn from it. The main aim of the European Union founders was to build a system that could avoid future wars and future refugees in Europe as I explain in COSMOPOLITE.
---
VILLA ANNETTE - A FAMILY BOUTIQUE HOTEL FOR TRAVELERS...
On February 14th, 2011, on St. Valentine's Day, I met Mrs. Doris and Mr. Vladimir Peršić… the owners of Villa Annette boutique hotel located in Rabac (Porto Albona)... it is a boutique hotel for travelers, gastronomy lovers, and for people that each day do like to celebrate love…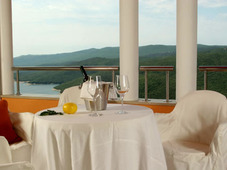 Saint Valentine's Day, commonly shortened to Valentine's Day, is an annual commemoration held right on the day we met... it is a day celebrating love and affection between intimate companions…
Villa Annette is a place where you can celebrate affection with each of your senses… breathtaking view of the sea from you terrace… possibility to taste good wine… truffles, family made extra virgin olive oil… all that merged with a sweet smell of Mediterranean around you just having a romantic dinner on your terrace around the pool…
My first wonder was to learn how this hotel got its name… I taught it was dedicated to a woman but when I met Mr. Vladimir and he presented to me his wife Doris I've got confused for a second.
I was thinking why these young entrepreneurs decided to name their hotel… Villa Annette? Why it was not named Doris?
During our meeting that question was coming back to my mind and in end I asked them…

From Mrs. Doris I learned that their hotel is named after their daughter... the most beautiful gift love can produce...
Watching the video at the end of this story I hope you will get an idea of what I am trying to say… I name it the "www" boutique hotel… What Women Want boutique hotel…
The words that can describe www are… attention to details, the art of gastronomy, Mediterranean flavor, truffles, wine, olive oil, culture, positive energy of the family and their staff…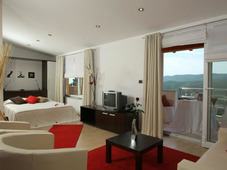 Villa Annette is located on a protected part of the hill slope overlooking the bay of Rabac and has wonderful panoramic view over this part of the Kvarner Gulf.
The breathtaking view ends up among the Islands of Cres, Lošinj, Unije…
The air line distance from the sea coast is around 500 meters.
Annette boutique hotel I would define as an outcome of Mrs. Doris and Mr.Vladimir's energy… it is an example of passion they put in their endeavors and dreams… allowing people who visit them to enjoy part of their dreams…