Bale – Valle: "The entire village developed around the Castle named Bembo that in origin belonged to Soardo family"
---
The Bembo – Soardo Castle is particularly high and has two symmetric towers with a central residential tract decorated by Gothic "quadrifora" windows on the first and the second floor.

This residential part of the building was built in the middle of the towers. The towers are probably from the 7th – 8th century and were restructured by Venetians at the beginning of the 14th century, while the residential part between the towers was built by family Soardo in the 15th century.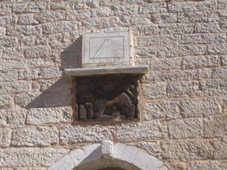 The building is really impressive and the entire village developed around the castle. The first tower has also the main gates with Gothic arch.
The solar clock, a Lion of St. Mark with an open book and the coat of arms of the family Bembo are placed on the façade above it.
Two other interesting buildings on the square are located in the northern part of the square above the second tower of Bembo – Soardo castle.
One building is a tower with a clock that is also part of the town walls and the other building is the one with Venetian Gothic windows, "bifora", on the other side of the street.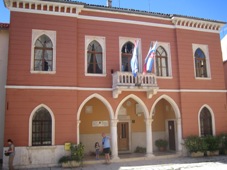 Opposite to the Bembo – Soardo castle there is the Municipal palace with loggia from the 14th century. It is an interesting building with red façade, stone made balcony, and a loggia with three Gothic arches.
The Gothic windows on the first floor are also interesting. Historically this pretorian palace was in part also the Venetian "fondaco", the grain storage house.
Family Bembo is a family from Venice and representatives from this family were Rectors of Bale since 17th century.

At the time they lived in Venice but in 1750 they moved to Bale.

The Castle is named Bembo but in origin this Castle belonged to the family Soardo. It belonged to the family Soardo since the 15th century.

They built the residential and most representative part of the building between the two towers.

In 1618 Veronica Soardo married Alvise Bembo and thanks to that marriage the Castle passed to the family Bembo.
Another interesting story related with this castle is the fact that Giacomo Casanova in the mid of the 18th century visited several times the castle and is assumed that he may had a love affair with Mrs. Bembo.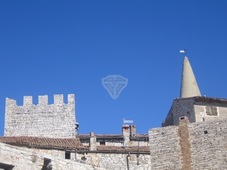 The town walls are today incorporated into the houses but historically were eight to ten meters high. It is proved that this town walls dates back into the 7th and 8th century and were restructured by Venetians in the first half of the 14th century.
The walls were damaged in the war with Hungary in 1413.
It is known that people from Bale asked in 1552 the Raspor's Captain to repair the walls but this has not happened and a document from 1652 confirmed that the walls at the time were in a very bad conditions.