Brijuni – Brioni: "If you stay even few days in Smrikve you should include the Brioni islands in your Istrian itinerary"
---
In general, wise and talented people usually create things after hard personal experiences.

Men mostly learn trough experiences and that knowledge usually have a value for future generations.

The European Union, the United Nations, the Non-Aligned Countries Movement were all founded by the people who lived the experiences of the two World Wars and later on the Cold War experience.

The circle of life makes that the problems raise every time there is a need to replace the old talents.
In September 2008, Dr. Harold Kroto, the Nobel Prize winner, participated on a conference held on Brioni Islands and reading his interview few days later in the local newspaper it was like listening the Brioni's wise and old olive tree.
Mr. Kroto pointed out that any dogma mixed with Nationalism can easily destroy the mankind civilisation.
It would be nice to think that the old olive tree from Brioni could lend a part of its wise to every visitor of the "Islands of Peace".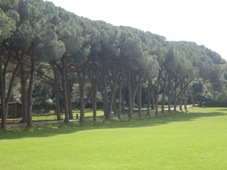 Today, the hotels would need major restructuring to attract again the elite clients that the islands is able to attract with its beauty and cultural heritage.
Brijuni Rivijera is the project that aims to bring back the islands to its past glory but even today the nature on the island is beautiful. To maintain this beauty it is necessary a lot of human work and also the animals on the island help to maintain it.
You will note that some trees will appear to you like an umbrella with its forms and you may think that where formed by the men in that way but actually the animals did it. The beauty of today's Brioni is a combination of men and animal work.
In the last decade the islands were visited by some celebrities like: Caroline Ranieri – the Princess of Monaco, and her husband Ernst August, the Prince of Hanover, Steven Spielberg, Bernie Ecclestone, Luciano Benetton, Ottavio Missoni and many others.
All these visits are a good sign of Brioni's potential for the future maintenance of the islands.
If you stay even few days in Smrikve you should include the Brioni islands in your Istrian itinerary.
In the Brioni's Photo gallery you will find many nice photos of Brioni that could be of interest for you.
In end, I would like to close this article on Brioni islands with an example of human work of elegance and excellence, famous in the World, that continue to spread the word of this special islands, partially described in this section, and it is a video about Brioni suite company. This company is a synonym of elegance and beauty.